Believe it or not, there are many types of pens. While each may have a special function, another agenda of a pen's design is to create a fashion statement.
Some folks take the pens they buy seriously. They treat them both as a writing tool and an accessory. In fact, many find it fun collecting and using them fancily. For teachers, pens are essentially a writing instrument for learning. Moreover, writing by hand has multiple benefits from taking down notes, drawing, sketching, coloring, and learning. Therefore finding the correct pen is essential for writing and wellness as well.
You may wonder what are the different types of pens you need in the classroom, the ink each pen uses, and which one should you get. Keep reading and you will discover which pens are these.
What are the types of pens you need in the classroom?
Sign pen, grading pen, marking pen, fountain pen, gel pen, ballpoint, rollerball; teachers love pens. Not only for their grading or marking tasks but for everything they need to enhance learning inside the classroom. With all the different types and colors of inks, who can blame them for patronizing every type of pen possible?
Their love for pens came from the reality of how special types of pens make every task well sorted out, artistic, and appealing. So I did some research and rounded up the types of pens that every teacher needs permanently and for as long as they're teaching.
_______________
Searching for the best pens for grading? We have reviewed top-rated pens that you might be looking for. Check them out.
_______________
Ballpoint Pens
This is the most common and well-known pen type. These pens use oil-based ink that distributes a fast-drying ink as soon as it comes in contact with the paper.
All teachers use ballpoint pens because they write smoothly and evenly. The pen is not fussy compared to the other types of inks. It offers long-lasting refills, easy to use, and is available everywhere. Ballpoints are exceptionally reliable and come with a continuous cap that keeps the ink from drying.
The ballpoint offers different tip sizes – the medium tip measures about 1.0 mm and a fine tip at about 0.7 mm. With an ink rolled into a hard-sphere of 0.5–1.2 mm – the tiny rotating ball made of steel disperses ink as you write. Ideal for all-around writing.
Soft-Grip Pens
When teachers get callus from too much writing, it is a result of the repeated use of pens or other writing utensils. Nothing is comforting for them than pens with a soft grip. This is perfect as their job entails a lot of long writing almost on a daily basis.
A good grip can help alleviate discomfort in the finger. Soft-grip pens have a rubber grip to make it gentler and easier for fingers to stick to as opposed to the slippery plastic or metal surfaces.
All soft-grip writing tools are made of a soft material to prevent dents or welts on the fingers caused by writing too much. The good thing is soft-grip pens are also available in ballpoints, felt, gel, fountain, and other pens.
Marker/Felt Pens
Marker pens or felt pens are widely loved by teachers for their special effects like color mixes. They are made with a porous tip with fibrous materials.
Known as the mark-maker, medium-sized ones are ideal for drawing and coloring projects while larger types are a teacher's favorite to write on large surfaces like a chalkboard, whiteboards, folders, cardboard, and corrugated boxes.
You can choose if you like a bullet, cone, or slanted chisel tips that write perfectly on any non-porous surface. Marker pens or felt pens have the ultimate control over how much ink or paint is laid down with each mark. It helps the ink flow freely producing highly saturated colors that teachers need to be able to create bright, bold art projects.
Gel Pens
Those lovely pens with color pigmented inks that are suspended inside a water-based gel are the famous gel pens. The ink is thick and opaque, showing up more clearly on dark surfaces than other pens. While the ink provides finer and more controlled lines of color, it has a slower drying time.
Gel pens come in bright neon colors that teachers need for vivid writing, drawing, making illustrations, and even for color-coding texts on planners. The pens can be used on smooth and non-absorbent surfaces since they are less likely to bleed through the other side of the paper. If you are fond of coloring books or mandalas, gel pens are wonderful.
Generally, gel ink tip measures between 0.5 mm and 0.7 mm., very much capable of creating a nice sharp edge on the line. If you're an elementary teacher, you'll love the range of neon, glitter, metallic, pastel, saturated, blurred, vibrant, shady, shiny, see-through, glow-in-the-dark, and invisible effects of colors in gel pens.
Multi-functional Pens
There are pens designed with more than one function. A multi-functional pen means one pen with a multi-purpose function to give you a multi-purpose option.
Typically, a multi-function pen can function as a ballpen, felt pen,  highlighter, and mechanical pencil. Some come with an eraser. These functions allow you to perform different tasks with one writing instrument. You are lucky to find one with a multi-color option, which can help with drawing, color-coding texts, and doodling, or with a stylus on the top.
This type may be a bit expensive but with all the functions it offers, would you say no to it if you have the budget?
Pens for Lefties
Many teachers are left-handed. While they can use any type of pen, there is a tendency for the ink to smear as their hand moves from the left to the right. One solution is to use a specially-designed pen with a nib that flows smoothly when pushed so that you get an even ink flow.
But there's good news for left-handers!
Left-handed individuals can now use a pen with ink that dries quickly. That means there will be no more mess on all common writing surfaces. The grip is also made of soft rubber to give you comfort while writing. If you are a lefty, you'll be proud and boast smear-free penmanship. Thanks to technology, some pens for lefties even come with a binder and pocket clips.
Stylus Pens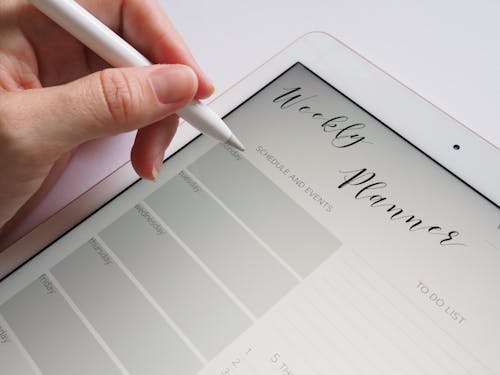 With today's technology learning, stylus pens do help both teachers and students work on devices. They allow for more controlled writing, drawing, or sketching so that the screen will be free of smudges. This pen is a perfect tool to navigate through an iPad, tablet, mobile, and other trackpads.
Did you know that a stylus pen should be among the list of useful classroom supplies for elementary teachers? Like a casual ballpen, the stylus is also elongated with a slightly pointed tip for more precision while using touch screens. It is designed to provide a good grip perfect for little hands.
You are lucky if you find pens that are made with a ballpoint tip on one end and a touch screen stylus on the other end. They may be a bit pricey but worth an investment.
_______________
 In Conclusion
Teachers, students, professionals, and children need pens. We all do. However, the need for a pen varies from person to person, depending on size, the shape of the hand, and of course, where to use the pen for. The best pen for teachers is one that helps them do certain tasks easier and allows them to work with convenience while preventing hand injury. In this post, we just uncovered the basic pens teachers (you) need the most.
Also, the looks of the pen matter. Surely, certain pens solve certain writing tasks, but one that makes you feel good while using it can enhance creative expression. So, among the list above, which type of pen is your favorite? I hope the list above will help you parse through the most basic pen option for a teacher.
Do you know of other pens that should be made into the list of pens for our educators? We would love to hear your comments.